South Africa, the Country with the Most Beachfront Hotels in Africa
Photo credits: Diriye Amey [CC BY 2.0], via Wikimedia Commons
The next stop in Travelmyth's beachfront seeking journey is Africa, a continent fairly rich in beachfront hotels and accommodations. On the top of the list we find South Africa, as it's the country with the most beachfront hotels in the entire continent. Even though the majority of its provinces are landlocked and only 4 of them are touched by the sea, potential travellers can choose among 781 beachfront hotels to spend their dream vacation. Next on the list are Egypt with 522 beachfront accommodations, Mauritius with 240, Tunisia with 184 and Morocco with 178.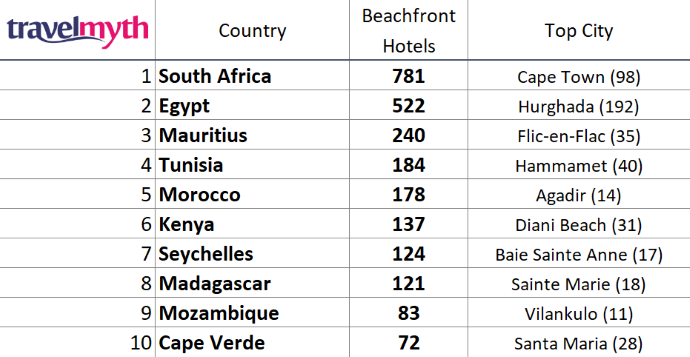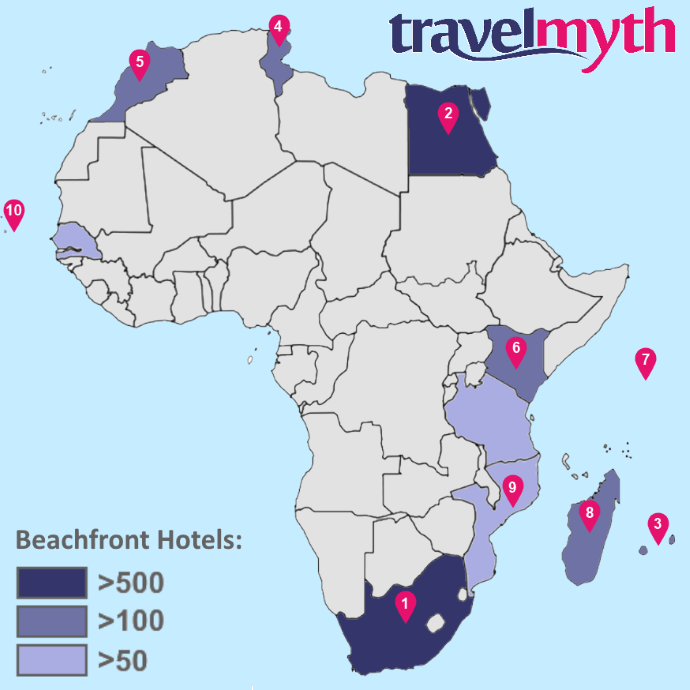 More specifically, the province with the most beachfront hotels in South Africa is Western Cape with 471 accommodations, followed by KwaZulu-Natal with 208. Eastern Cape occupies the third place with 100, while Northern Cape has only 1.
As for the cities, Cape Town alone has 98 beachfront hotels, thus earning its place on the top of the list. Blouberg follows in second place with 53 beachfront hotels, while Durban boasts 48. Next is Strand with 46, Ballito with 37 and Jeffreys Bay with 32. Paternoster follows closely with 28 beachfront hotels and Wilderness with 27, whereas Langebaan and Amanzimtoti have 22 and 21 respectively.
Before you start packing your suitcases, you should know that you can combine your beachfront hotel search with other categories so you can find the truly perfect hotel for you. We have uncovered some of the most popular combinations for South African beachfront hotels and offer you some suggestions. For example, 391 of the beachfront hotels also have a pool, while 69 of them are also dog-friendly. For those seeking a luxurious retreat, 34 of the beachfront hotels also have spa facilities, while 26 of them are also 5-star accommodations.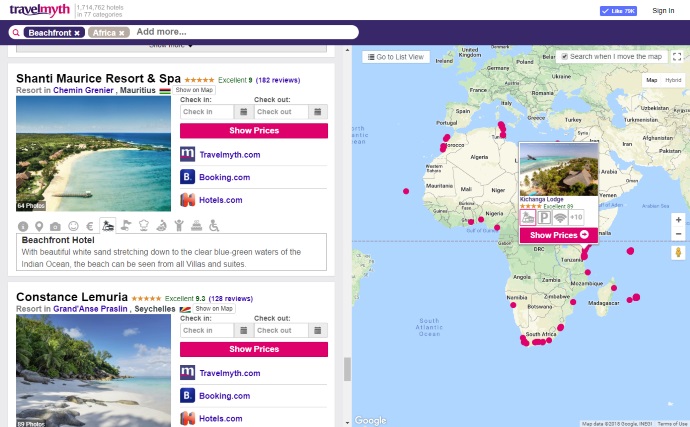 To refresh your memory, "Beachfront" is one of Travelmyth's 77 category filters. This specific category of hotels is defined by its immediate proximity to a beach. Beachfront hotels may be separated from the beach by a road, but not by other buildings in between, while the beach has to be directly accessible from the hotel. The research was conducted with all hotels that are listed in at least one of the biggest online booking sites. The beachfront category currently features 28,000 hotels around the world with about 10% of them being in Africa: https://www.travelmyth.com/Africa/Hotels/beachfront