Hotels with a Pool Swim Up Bar: Behind the Scenes at Travelmyth
June 25, 2022 by Travelmyth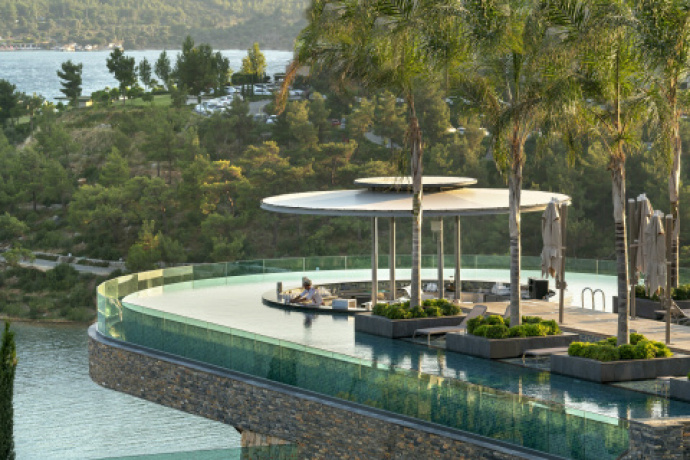 What would be better than a bar by the pool? But of course, a pool swim-up bar!

Indeed, a bar placed in the middle of the pool where you could enjoy a delicious breakfast with your family while your little ones swim next to you in the turquoise waters would take your summer vacation to another level of relaxation. And what is the most splashtastic way to meet interesting new people and socialize during your summer holidays? Some music and a strawberry daiquiri in the crystal waters is our mermazing secret. Honestly, a little liquid courage to talk to the pretty girl that was swimming on the other side of the pool never hurt anyone. June is already here, and you can't wait to spend countless hours in the blue waters under the hot sun and go with the flow.
There are pool bars, and then there are swim-up bars. While creating the pool swim-up bar category for those who want to combine their love of water and their need for a piña colada, the Travelmyth team decided to define some specific criteria in order to include hotels and resorts in this category. There shouldn't just be a bar by the pool, but the bar should be right in the water where you can literally sit on the seats, enjoy your cold drink and bar snacks, and make new acquaintances. So, this is the major rule, but also the coolest element of this category. You don't have to leave the pool and walk to the bar, but you can swim there and order your next round without leaving the water. And while you're waiting for your drink you can go for a dip!

We did some research and tried to create a list of the top swim-up pool bars in vacation hotspots throughout the world. If you want to spend your days soaking in the sun from the comfort of a lagoon pool while still having ready access to tropical drinks and cold beers, you can't miss these destinations with hotels with a pool swim-up bar! Our list with pool swim-up bars has options for all tastes and will meet the needs of even the most demanding luxury traveler.

Can you guess which country has the most hotels with a swim-up bar? It is Mexico with 505 hotels! Thailand comes second with 317 and Indonesia with 176! India, Malaysia, China, and the Philippines are also some wonderful destinations to find your next idyllic hotel with a pool swim-up bar!

At Paradisus Cancun All Inclusive in Mexico you can enjoy great conversations and stay cool with a cold mojito while you're swimming your worries away. At Hilton Sanya Yalong Bay Resort & Spa in China you will unwind and rejuvenate yourselves feeling like you are in a tropical paradise. The true aqua-holics cannot miss to visit and swim in the crystal clear waters of Karon Sea Sands Resort in Thailand. At Kenilworth Resort & SPA, Goa in India, you will experience absolute tranquility while enjoying the picturesque scenery and the tropical palm views with a refreshing margarita in your hands.

Talking about Europe, Bulgaria may not be the first country that comes to mind when you think about a swim-up bar, but it surprises us and wins the first place with 122 hotels. Of course, Spain with 111 hotels, Greece with 72 hotels and Cyprus with 32 hotels couldn't be absent from our list with some of the most majestic Mediterranean swim-up bars submerged in water. The impressive pool swim-up bar of Imperial Palace Hotel in Bulgaria with its five-star oceanfront amenities, delicious light meals and blended cocktails will make you feel like a member of the royal family. The pool swim-up bars of Aqualand Resort, Eagles Palace, Nikki Beach Resort & Spa Santorini, Faros Hotel Ayia Napa and Olympic Lagoon Resort Paphos in Greece and Cyprus definitely are the epitome of luxury, high aesthetics, and elegance and will exceed all your expectations.

In the Middle East, Egypt with 90 hotels and the United Arab Emirates with 45 hotels also boast some of the most breathtaking pool swim-up bars for the ideal vacation. If you are looking for the ultimate tropical getaway and a relaxing break on the water, then Sultan Gardens Resort in Egypt is your answer. After a long day of pampering yourselves and swimming, why not relax with a drink at the swim-up bar? At Emirates Palace, Abu Dhabi in UAE you are not going to be too eager to leave the pool at all! Burj Al Arab Jumeirah, an urban oasis in one of the world's most cosmopolitan cities, blends harmoniously luxurious services with aristocratic atmosphere and comfort. Honestly, why choose between taking a dip in the turquoise-blue waters or relaxing with a mai tai when you can do both?

Life is cool in the pool! Find your next swimming pool oasis on Travelmyth and discover our extensive collection of hotels and resorts with the most impressive swim-up bars in Asia, Europe, Middle East, Caribbean Islands, North, South and Central America!
Don't forget to follow us on social media!
Facebook | Instagram | Twitter | TikTok | TikTok UK | LinkedIn | Pinterest


View all hotels with a pool swim-up bar in the world>>