Mediterranean islands with the most beachfront hotels: Sicily, Crete and Cyprus top the list
[PRESS RELEASE] According to hotel search engine www.travelmyth.com, Sicily has more beachfront hotels than any other Mediterranean island. Travelers who wish to have direct access to the beach can choose between 735 hotels and accommodations in Mediterranean's largest island. The province with the most beachfront hotels is Messina with 298 hotels, Ragusa follows with 100 hotels, Palermo comes third with 79 hotels and Syracuse fourth with 78.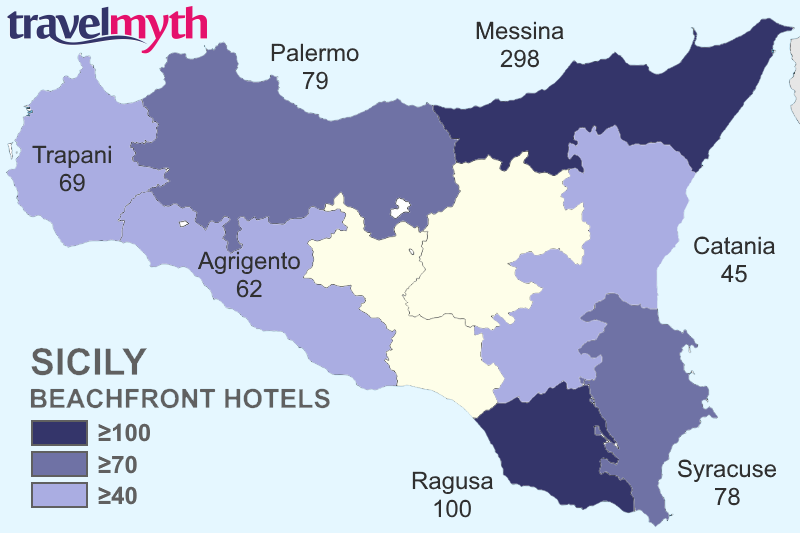 Crete is right behind Sicily and claims second place with 677 beachfront hotels and accommodations. The country's largest island has 22,5% of 3004 beachfront hotels in Greece. All four prefectures have more than 100 beachfront hotels each: Chania 229, Heraklio 166, Rethymno 150 and Lasithi 132.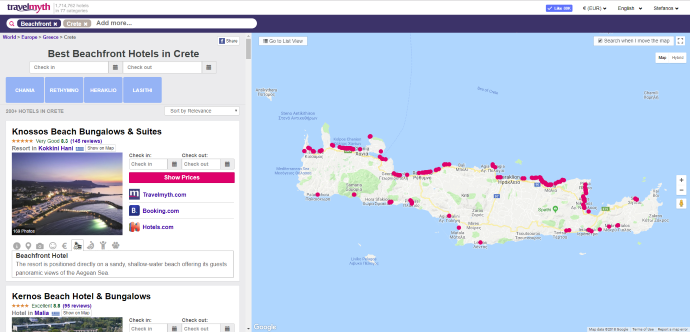 The island of Cyprus gets third place with 309 hotels, just 8 more than Majorca which comes fourth with 301 hotels, 70% of 431 beachfront hotels in all Balearic Islands. In fifth place with 285 beachfront hotels we find Sardinia, the second Italian island in the list.
In the next two positions we find the Greek islands of Corfu and Rhodes with 255 and 227 hotels respectively. France enters the top 10 list with Corsica which claims the eighth position with 126 hotels.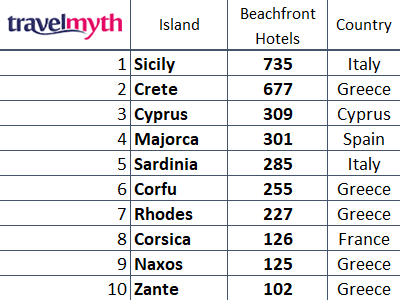 The rest of the top 10 is rounded out by more Greek islands, Naxos with 125 beachfront hotels and Zante with 102. Naxos is part of Cyclades Islands, where 453 beachfront hotels are built. Zante is part of Ionian Islands, which have 487 beachfront hotels in total. It's worth noting that half of the islands in this top 10 list are in Greece.
"Beachfront" is one of Travelmyth's 77 category filters. This specific category of hotels is defined by its immediate proximity to a beach. Beachfront hotels may be separated from the beach by a road, but not by other buildings in between, while the beach has to be directly accessible from the hotel. The research was conducted with all hotels that are listed in at least one of the biggest online booking sites. The beachfront category currently features nearly 20.000 hotels: https://www.travelmyth.com/World/Hotels/beachfront
A few words about Travelmyth
Travelmyth is an advanced search engine for demanding travelers. Its users can find recommendations for the best hotels based on their interests and preferences. They can choose among 77 categories, including beachfront, dog-friendly, family-friendly and unique categories like former castles, historic, skyscraper, ski-in-ski-out, hotels near vineyards, hotels with infinity pools, pools with lap lanes and others. The search may optionally be restricted to a specific region or city destination. Having listed more than 1.700.000 hotels all over the world, Travelmyth has developed sophisticated algorithms and AI machine learning models that rank the properties in a way that lets its users discover the best hotels based on their chosen criteria. Users can then enter the desired travel dates and compare prices on booking websites. To complete the booking, visitors are transferred to the booking site of their choice.